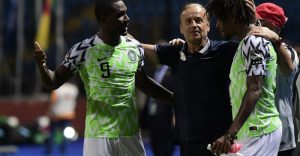 Tonight may be Nigeria's last night at the 2019 AFCON.  If everything goes according to plan, the Super Eagles will be departing Cairo tomorrow on a chartered aircraft heading straight to Abuja, Nigeria.  The team may not be in the Egyptian capital city to watch the final match.  It will be too painful, understandably, because, very easily they could have been one of the two teams to be playing for the most coveted trophy in African football.
Win or lose tonight, therefore, there are proposals that the team be feted at the Presidential Villa for representing the country very well on Thursday night, or thereabout.  Rightly so, the definition of 'well' is not to be limited to only winning the overall trophy, but extended to putting up some great performances that made Nigerians happy during the championship, and that was reflective of the best football traditions of Nigeria.  In short, this will be in consonance with the unwritten Olympic Truism that, 'in sport, you do not have to come first to be a winner'.  So, there are plans for the Super Eagles to be appreciated for the periods, during the AFCOM matches, that they gave Nigerians immeasurable joy, and brought the people together in a united front that everything else, including politics and religion, have failed to do.  Football, Nigeria's number one sport, continues to serve as a useful reminder of the country's potentials to be a truly great country if only she will espouse and apply the same principles that have made football the ultimate unifier that it is, devoid of tribal, social, religious, ethnic and political sentiments and considerations.  When Nigeria puts its acts together and gets it right, it will herald a new dawn for Africa and the entire Black race on earth. Football continues to demonstrate that possibility, always.
This morning, here in the camp of the Super Eagles in Cairo, however, the team is oblivious of any of the plans to host them. The players are entirely focused on the assignment ahead this evening when they take on Tunisia.  Since yesterday, the team has been back to their usual pre-match mode of seclusion, 'far from the madding crowd'.  After the press conference and light training yesterday, the camp went into 'sleep mode' as the players burrowed into their narrow cells and were not seen again until dinner time.  There is, therefore, nothing more to report.
The 'Fly on the Wall' is packing its bag too and may join the departure 'train' for home tomorrow.  This may well represent its last posting from Cairo.  However, there is still the match to be played this evening.  It is a no-tension, low-pressure, almost-novelty match between two old 'friends' in African football.  It will be fun to watch them stroll and saunter through a match that really has little at stake for either team beyond political rhetoric.

Painfully, it seems many people have not heeded my call to visit and share the pleasures on my new website. I am putting in a lot of effort to make it pleasurable, entertaining and informative. There is a great deal in there that are 'beyond sport'.  So, spend a few minutes and explore www.mathematical7.com for a glimpse of a rich kaleidoscope of colours, sights and sounds from the world of Art and Entertainment, of which sport is an integral part.