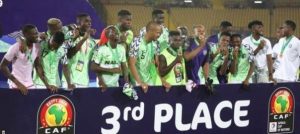 This is the last posting in the series on AFCON 2019.  The Super Eagles concluded their assignment last night at the Cairo International Stadium with celebrations as good as if they had won the coveted trophy.  It is understandable why they were so effusive in their celebration of Third-Place last night. That is the target the President of the Nigeria Football Federation, Amaju Pinnick, said his federation set for the team before the championship started. That is also the target the German coach, Gernot Rohr, with the humongous wages he receives, told Nigerians his employers set for him before the event started.  On both counts, the team and the coach have delivered.  On that score, also, the team deserves to celebrate.  So at last, when the players arrived at their Le Meridien Metropolis Airport Hotel, there was a very sizable crowd of hotel guests and fans waiting to welcome and celebrate with them.
As they were decorated with their medals around their necks at the stadium, they celebrated their Third-place success like the champions, with the members of the Nigerian Football Supporters Club (all 4 versions that I hear now exist).  This morning the team will wrap up their stay here in Egypt and head for the Cairo International Airport later in the day, where a charter aircraft is reportedly lounging on the beautiful, sun-soaked tarmac, ready to ferry the Nigerian football heroes to Abuja where a heroes' welcome may be awaiting them.  The players cannot wait to get back to their bases, to 'blow up' pent up physical and emotional tensions, and return to normalcy again after a life in seclusion and confinement.
Beyond the superficial life of glitz and glamour, the players make huge sacrifices every time they are called upon to represent their country. Particularly for championships such as AFCON 2019, that keeps them in 'prison' for up to 6 weeks as in this case, it takes enormous commitment and uncommon discipline to survive this kind of life where the rewards and recognitions only come with trophies that are few and far between and never guaranteed.  That's why the life of an international footballer is tough, rough, hard and difficult. Not many people know and appreciate this, but you have to experience it to know what it takes to live and prepare for competitions in a camp.  So, my 'Fly on the Wall' in the Eagles camp is packing its things too this morning in readiness to return to Nigeria.  It was a great adventure covering the AFCON 2019 remotely, and I cannot thank the 'fly' enough.  I shall surely be joining other Nigerians to celebrate a new era in the history of the Super Eagles that will surely birth from the postmortem of AFCON 2019 soon.
The final verdict by Nigerians will start to come to light in the days and weeks ahead.
Is Third-Place what Nigerians should ever aim for in African football? Should Nigerians celebrate Bronze as if it is Gold? Should Nigerians aim for Bronze when they could have Gold were they to believe in themselves, have faith in their capability, and set targets that reflect their vision for a place amongst the giants of world football?  For my personal views on the entire championship, read my column in Complete Sports, The Guardian and Vanguard this Saturday.  I have thoroughly enjoyed this daily journey.  I hope you all also did whilst it lasted.  Still keep a daily date with me on several other issues in the new website, www.mathematical7.com  In the past two weeks, or so, excerpts of my exclusive interview with Chief MKO Abiola in 1992 went viral on the information superhighway. One of those that made it happen is Bashorun Dele Momodu, who shared it and gave me credit.  No one else did, unfortunately.  On Dele's advice, I have decided to upload the entire 20 minutes' conversation done 27 years ago in Chief's Ikeja, Lagos, residence.  Tony Akiotu (the GMD of AIT now) and I conducted the interview. Tunde Kelani, TK, recorded it.  It is a prophetic and historic conversation.  It shall be available from today on the site. Enjoy, share, and spread it.  Kindly also credit the source, as it is a part of my life's works.  There are many more where that came from.  Just keep a date on my site daily.