Early this morning the team had a light walkabout on the road around their hotel in Cairo, after a day that most people will regard as very boring.  Footballers have to get used to such a boring but tasking lifestyle. Their daily program of activities reads like this: sleep, train, eat, heal, sleep, train, eat, heal,…on and on.  It is only occasionally that this sequence is interrupted, and even that is short and sharp before the players return to their narrow existence.  Even amongst the players in camp, there is little time for socialization outside the football training ground.  Day and night the players are on their own, in the confines of their two-per-room accommodation with their duvets and some television as their cosy companions.   They also take their health and physical wellbeing very seriously with regular massage and physiotherapy sessions to ease bruised, aching and battered bodies, particularly during a championship such as AFCON.  They can't afford to allow concerns and thoughts about family and friends to come in and disturb their psychology. It is not fun to be in camp.  It must be a total focus or nothing.  To do otherwise is to make life in camp hell.
So, yesterday, the camp was boring.  The team met their coach as directed during breakfast.  They had a light training session followed by a very interesting half an hour with Mr Motivator, the President of the Nigeria Football Federation, Amaju Pinnick.  After the meeting, the players retired again to their rooms from where they watched the match involving their next opponent – Algeria.   Can you believe it?  The players did not even congregate to watch the match between Algeria and Cote D'Ivoire collectively.  They did from their individual rooms.  That's how regimented life in the camp is.  Each player would start, after watching the match, to contemplate how to deal with the new opposition.  Interestingly, Algeria presents a completely new kind of football dynamic, different from anything the Eagles have so far experienced in the championship.
Yesterday afternoon Amaju went to visit the team and set the ball rolling for the match.  They met in the dining area.  After his regular talk on patriotism and the Nigerian spirit, he had additional good news for them that could either make them more determined, or more nervous.  That's the risk of introducing the issue of financial reward as an incentive for good performance.  It is often a big psychological gamble. We have to wait and see how this will impact the team.  He told them that two of Nigeria's richest men and patriots, Alhaji Aliko Dangote and Mr Femi Otedola, have come together to encourage them to give their all to win against Algeria, with a pledge of some $75,000 US Dollars, for every goal the team scores.  It is a good and very safe incentive.  There are not many goals left in the championships.  Algeria is the most technical team of the championship so far.  Quiet, organized, disciplined and efficient, they have only conceded the lone goal scored luckily by Cote D'Ivoire since the championship started.  They have not lost a single match.  They may actually have scored the highest number of goals, I am not sure as I write this.  But the Desert Foxes are old known foes of Nigeria.  They will test Gernot's tactical ability to the limit because to beat them would require a strategy, well planned, well-rehearsed and followed to the letter in execution.   Gernot Rohr knows this and must be scratching his head and planning his strategy now.  The good news is that the team calmly took in Amaju's talk and offer, and retired, once again, cooly and calmly to their rooms.  The team spent the rest of yesterday in their rooms, watching television and allowing their bodies to heal properly.  Today they are up already and back to their monotonous existence of eat, train, sleep, heal, eat, train, sleep, heal, over and over again, like a broken gramophone record.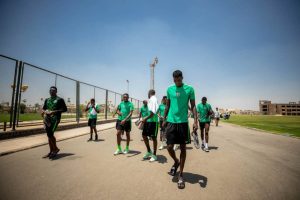 Above is a picture of the players this morning at a warm-up training session.
My weekly column comes out tomorrow in selected newspapers and also on my new website www.mathematical7.com
You must read my new thoughts on Gernot Rohr  Tomorrow, everywhere.