Ososa.
It is Day 1 for me at the filming of Ayinla. For Tunde Kelani (TK), it is Day 8.
That is because I have not been in Abeokuta since last Saturday when actual filming began.
On Friday night a very bright star streaked across the dark night, dimmed and disappeared in the distance.
Early on Saturday morning, we woke up to the very sad news that one of the great influences in TK's life, one of his mentors, the renowned Yoruba scholar, polyglot, foremost historian, collaborator with TK on several Yoruba projects, socio-cultural crusader, and former Ambassador at UNESCO, Professor Olabiyi Yai, died the night before in his home in Benin Republic. TK had been with him in Cavali, his home in Benin Republic, exactly a week before. He had met with him for about an hour on his sick bed. There was no inkling that would be their last meeting. The news was a devastating blow, but somehow, realising the high stakes already involved in this movie, and respecting what he believed would have been the Professor's wish about what he should do under the circumstance, TK decided to go on with the filming for the day, the man's encouraging words when he last saw him, reverberating in his mind. Somewhere, some time, along the film circuit, TK would dedicate something in Professor Yai's memory.
That afternoon, the filming began.
Days before that, parts of Abeokuta had been buzzing with activities and excitement. At the different sites chosen as locations for the film,  trucks, laden with heavy production equipment, could be seen moving from one location to another, evidence that something big was happening in the town. Some old, abandoned buildings were suddenly getting a facelift, their newly painted 'faces' basking in the scorching heat of the rocky town; the towns monarchs were being contacted and informed about the project; whole sections of some communities were being renovated; and local artisans and vendors were making a kill in brisk business.
The spirit of late Ayinla Omowura has enveloped Abeokuta and, without question, he must be dancing excitedly in his grave. A large contingent of actors (most of them unfamiliar faces in Nollywood in the usual tradition of TK's productions), producers, make-up artists, costume makers, set designers, and so on, are lodged downtown in Adesbar hotel. Later that Saturday afternoon the filming of Ayinla got under way.  5 days before that, TK and I had headed northwards to Ososa and Ipara for our rendezvous with the elements.  Recall that I had extracted a verbal commitment from TK that after his 'spiritual' communion in Ososa, he would reciprocate and accompany me to Ipara to enable me also drink from the fountain of the only friend I know who would gladly quench my own thirst for inspiration in this my great challenge in the world of artistic expression.  Through the decades of my romance with television production, I had collaborated on several projects with Uncle Jimi Solanke. I actually filmed  his first but still-unreleased solo movie  – 'The Storyman'.  We also traversed several village squares in Oyo State together as he put up short drama sketches in the local communities  promoting various aspects of primary healthcare. We (my organisation) did all the filming, whilst his group did all the acting and produced the music.
It was my best tutorial into the life, ways and works of the great Jimshow, as I fondly call my Egbon.  With this my anticipated role in Ayinla, I needed to share communion with Jimshow, to get him to elevate my confidence and theatrical skills, so that I can  'silence' all my beloved sceptics who, like Thomas, doubt my ability to successfully and professionally act in one of the great scenes in the Ayinla movie?.  You can now understand why I needed to go to Ipara.
Uncle Jimi lives there now, putting on ground in his home village a permanent home for all his life's works in theatre, film, dance, music, fine arts, art collection, story telling, and so on, building his own Republic, like his boss WS, the only man in the world, he says, who would call for him at anytime, and he would drop everything immediately and answer his call. He even rose from his seat and geneflected at the mention of Wole Soyinka when TK and I finally caught up with jom.on Ipara.  "Segun, that was an excellent piece you wrote on my Oga'", Uncle Jimi said about my visit with TK to the Automonous Republic of Ijegba a week earlier.
Now you can understand why I needed to go to Ipara, to drink from his well of experience about how best to deliver the role of Vice-Principal of Abeokuta Grammar School, AGS, when it comes to my turn to turn on some magic on the set of Ayinla ?. I remember AGS, very well. Two of my brothers, Tunji and Dele Odegbami (both late) went to that citadel of learning for their Higher School Certificate, HSC. I visited the school many times when they were there and Ayinla Omowura was still alive.
So, that's how TK and I set out on that eventful  Tuesday before last Saturday for our dual pilgrimages to Ososa and Ipara. Ososa is very easy to find on the map as well as on the Sagamu-Benin express road. It is a stone's throw from Ijebu Ode. You can not miss it.
Two entrances lead to the town from the road.  Each has a giant painted statue of a man standing, between two elephant tusks made of concrete, standing in a small clearing sheltered by small chains by the side of the Express road. The gap-toothed middle-aged man with a broad, welcoming smile on his very handsome face, is resplendent in the colourful garb of a traditional ruler, his hair braided in three parts in the frontal part of his head, and a staff of authority, shekere, in his right hand. There is an embossed inscription on à stone slab above his head. it reads simply: Chief Dr. Hubert Adedeji Ogunde.  Below it, like a footstool, is another inscription: 1916 – 1990.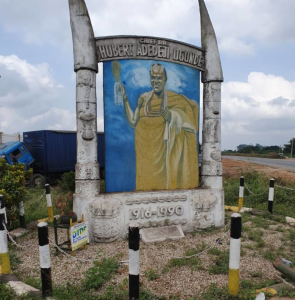 Confirmation,. We are one of the 2 identical entrances to Ososa.
We drive into town.
It is a very short drive.
It seems like every road gravitates to this one place in the town because it stands out. It is just ahead of us, the newly painted walls and large sign post in front 'loudly' welcoming us to our destination.
It screams: this is  the home, Mausoleum and Living History Museum of the Father of the Yoruba travelling, dance and drama theatre, Alere Lodge, Chief Dr. Hubert Adedeji Ogunde.