If I was in charge of Nigerian football, yesterday, I would have taken some very drastic decisions on the structure of the Super Eagles.  Gernot Rohr should thank his lucky stars I am not.   I shall, however, express my personal thoughts on the humiliation of Nigeria in my column this weekend. So, for those interested to know my views and what I would have done, don't miss it in any of the three daily newspapers I write for every Saturday (Complete Sports, Guardian and Vanguard) and also on my new website: www.mathematical7.com.  So, what happened in the Nigerian camp beyond Amaju Pinnick's intervention in the dressing room at the stadium in Alexandra after that dreadful match, and the training at dawn of the team yesterday?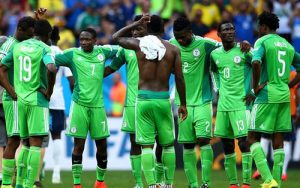 I can now report that the players have met several times in organized and even unorganized meetings since the match that has become a nightmare that can only be exorcised by winning the next match.  Their mood in the camp and during the meetings has been described by the fly on the wall as "…righteous anger building up in the team now to make amends on the pitch on Saturday".  I am told the players actually think it is all their fault, and that they have let Nigerians down.  There is no conversation about money in the camp anymore, even though they must be silently ruing their loss of some N162million for that lost match.  Leon Balogun and Ndidi are particularly psychologically injured and have been rather downcast in camp.  Leon's elementary error of moving away from a pass instead of towards it was a gift to Madagascar, who, before then, and even after, could not create a single goal scoring chance of their own.  The second goal was another unearned gift. Ndidi came in as a replacement.  Determined to take the battle to the opponents he started to charge like a bull in a china shop and went into a tackle that was completely unnecessary, giving away a free kick in a dangerous area close enough to the Nigerian goal for Madagascar to take a chance and shoot for goal.  It was their lucky day. The shot was deflected accidentally by Ndidi beyond Ezenwa's reach in goal.  It was another gift.  Nigeria did not recover from both goals.  They could not even create a single clear scoring chance till the end.  They never looked capable to create and score any goal even if the match had gone on for a whole month.  The three Nigerian players, Leon, Ogu and Ndidi must have been deeply affected by their errors.  Gernot Rohr, who should have taken the brunt of all the criticisms has cleverly deflected responsibility for the failed match.  He was seen on television smiling when he granted an interview after the match.  Yesterday at training Gernot took Leon and Ogu aside and spoke to them at length. The impact of that conversation will be known soon when he fields either, or both, or none of them in the next match.  Gernot Rohr's experimenting surely must have ended with that match.  Everything now is on the tactical and psychological state of the best set of players he has assembled to play the, obviously, more difficult match against Ghana?  What would be the greatest incentive to get the Super Eagles to rise above their present pain, play well and win the next match?  That the players know they have disappointed Nigerians and want to make amends may just be the tonic.
Don't forget to visit: www.mathematical7.com for special treats on Nigerian sports seen through my eyes through the ages.