I must complete my Freetown diary. I left it hanging like clothing on a line.
DAY 4.
I play tennis again. I play two sets this time instead of the usual one. I am following my own prescription of exercising daily and unfailingly.  The match is much more competitive than on all the previous days, and my backhand slice still does the damage. I win again for the third day in a row. Aliyu has become my friend and 'customer' on the court. He admits again that he does not get to play against hotel guests with good enough tennis to improve his own game.
I give him a good game always, and still pay him for it, can you believe it?
Every time we play, all expenses considered, I spend about 150,000 Leones.
I can't wrap my head around such whopping sums of money. The figures leave me in a daze. 150,000 Leones sounds like a fortune, yet it is probably equivalent to only 20 Dollars, or so! It reminds me of Ghana in the 1970s and early 1980s. The Ghanaian Cede depreciated so much that 10 Dollars converted for thousands of Cedes. A hotel room may cost a million Cedes, or something that ridiculous.  Ghana survived, no thanks to the political mop-up of human lives (former political leaders) that took place under Jerry Rawlings, and the emergence of new genuine patriotic leaders in the country (the sword of Damocles hanging over their heads) and a Ghanaian elite that was determined to do what's right and put their country back on track of Dr Kwame Nkrumah' s vision of a Ghana spearheading the formation of a powerful political, economic and cultural African Union. This will make the continent strong and united enough to pursue a proper infrastructural development program, connect every part of the continent, create the biggest market in the world, establish a continental integration program, and enable the united continent to compete with the rest of the world on a level playing field.  It was a grand plan that was aborted by a combination of narrow-minded, ignorant, greedy leaders as well as puppets of some imperialists and colonial masters. Ghana has since reversed the worst period in its history by converting the moments of its greatest challenge to moments of its greatest triumph. It is, until today, still healing.
The rate of exchange of the Leone does not tell the true story of the state of Sierra Leone, because the people appear to be happy and closely hugging the peace they now have that is bought with the blood of hundreds of thousands of their people as well as heroic Nigerian soldiers that led an ECOMOG army to quell the Civil war that turned the country into ruins. After the war, Sierra Leone became a graveyard of military hardware and dead people, including hundreds of gallant, mostly unreported Nigerian soldiers.  Sierra Leone is healing till now and the people are grateful to Nigeria, and welcome Nigerians with open arms. Beyond that, 'blood is thicker than water', as many Sierra Leonians trace their ancestry to Nigeria, particularly the Abeokuta area of Western Nigeria. So, don't be surprised when you hear names like Adeyinka, Ademola and so on, amongst indigenes of the country. They are kith and kin with Nigerians, and the people know this. So, Sierra Leone is one of the most genuinely welcoming countries for Nigerians in the world, and Freetown is home to a large population of Nigerians, mostly Yorubas and Igbos.
The day moves very fast.
Yaw and I are hosted to a special lunch by leaders of the Nigerian community in Freetown. It is very lavish. Over 20 of them come around, leaders of the Yoruba, Igbo, Hausa and Niger Delta groups in the town. We spend two wonderful hours together, feasting, bantering and taking photographs.
The major conversation is, however, about my football exploits. None of them is aware, until when I tell them, of my relationship with Sierra Leone – my debut match for the Eagles in Freetown, my first goal for Nigeria against the Leone Stars in Lagos, and how a Saro girl wanted to marry me by all means and came after me to Nigeria only to find out from the newspapers that I was preparing to get married! I regale them with such stories, and the afternoon is superbly and rapidly spent in a very jolly mood indeed.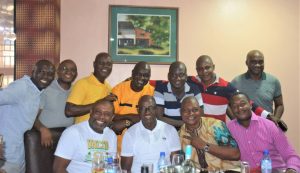 Conspiracy theories exist that the war and the dreaded Ebola virus outbreak were 'tools' deployed by Western powers to sustain their indirect control of the humongous mineral resources of Sierra Leone. The Gold and Diamond reserves in the small West African country are, ironically, the cause of their instability and poverty. Every African country with minerals and other natural resources are held back by anyone, or more, of several internal crises – religion, politics, the economic, ethnicity, etc, the indirect handiwork of global powers protecting their sources of raw materials for their industrial machines!
Who am I to deny these theories?
Since Sierra Leonians choose to cruise happily along the lane of peace and tranquillity rather than unearth what may lead them down the path of new agitation and crisis, I am happy too not to pry and probe what concerns me little. The only question I can safely ask, I believe, without attracting any ire is why the country has not changed or significantly developed, in the 40 years since my last visit. But I don't ask. I find hope of a better future in Lafete magazine's conference. It's goals to awaken the latent talents in the youths, to reorientate their minds, to sharpen their entrepreneurial skills, to make them employ and deploy modern technology, and to identify and interact with internal and external mentors that can guide them out of the landmines of past failures and onto fertile ground, are very apt and timely.
Our lunch goes very well.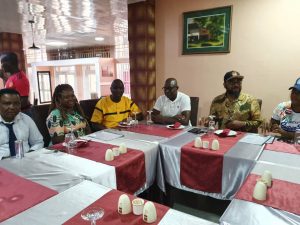 There is a football match at the Siaka Stevens Stadium in the afternoon to which I have been invited by one of the very few women at the apex of African football, the 'iron lady' of Sierra Leone, the President of the Sierra Leone Football Federation, Isha Johansen.  Osasu, my friend and super journalist, had connected us in the morning. We chatted and agreed to meet if her time and work permitted. She is to take me to watch my first domestic football match in Sierra Leone.  We eventually don't make it. I don't hear from her. She had told me earlier that she was going for a crucial 'tricky' meeting (one of those meetings where you dare not go to the toilet because by the time you return it will be over and you would have lost your position on the board) with members of the General Assembly of Sierra Leone football. It must have lasted all day.  So, Yaw and I return to the hotel to change clothes for the evening event, organised also by Lefete Magazine, to pick and announce the Sierra Leone Personality of the Year 2019. The award is been organised for the first time. Its objective is to identify an ordinary exceptional person in Sierra Leone doing extra-ordinary things.  'African time' again, the event starts three hours late and goes on till late.  There are interesting contestants for the single award, 10 Sierra Leonians, all involved in interesting diverse works, charities and philanthropic projects touching on lives.  The public vote for their choice of the winner via SMS. In the end, it is a young, male medical doctor that I had met earlier in the day. His work is raising funds by 'begging' on the streets of Sierra Leone to pay for the surgeries of selected children with extreme health issues.  He has raised hundreds of thousands of dollars and has taken 15 children for surgeries abroad in the past year. He is a genuine hero recognised by Sierra Leonians.
Yaw's compering skills are masterful, an effortless blend and flow of jokes and serious talk. I am made to make a closing speech. I don't even remember what I said.
Finally, we retire for our final night in Freetown in time to prepare for our leaving town in the morning. We are in the airport lounge now in Lungi. I am writing my diary. Our flight is called. It is right on time. Air Cote D'Ivoire is shaming Nigerian airlines and performing well again.  I am thinking about my experiences in Freetown. I remember Isha Johansen's chat on WhatsApp with me earlier. She explained why we could not go to watch the football game. It is fine. We agree to meet up sometime soon along the football circuit. The flight to Monrovia and Abidjan goes like clockwork. In Monrovia, I meet the Nigerian Ambassador to Liberia who joins the flight and disembarks in Abidjan. We exchange phone numbers and promise to keep in touch. Classy man of style. His Jean's and well-cut designer blazer fit him superbly.
From Abidjan, we are joined by a delegation of Nigerians, all of the staff of the Africa Development Bank, headquartered in Abidjan. We chat through the flight to Lagos. We arrive ahead of the scheduled time by a few minutes. Awesome flying, a reverse of African time.  As we prepare to disembark, I recognise the young lady dressed in baggy sportswear standing in the aisle in front of me and chatting with Yaw.
Yemi Alade, I exclaim. The singer.
We chat and I remind her about her visit to my recording studio in Yaba on the eve of her break-through in music and her meteoric rise to international stardom, thereafter. She is a great personality. She asks after my daughter, May7ven.  Then, it is time to go our different ways. We say our goodbyes and walk in different directions into the bewildering night of Lagos, the city like no other in the whole world.
I am missing Freetown already. I shall go back one day soon.