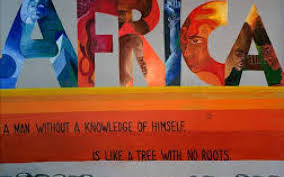 The title of this piece is not designed to mislead or confuse.  
It is the best way I am able to capture in a few words the many different thoughts and persons connected to one another in my mind.   
Everyone knows that Professor Wole Soyinka has never demonstrated any special love or affinity for sports even though, I believe, he may appreciate its significance as a social engineering tool.  
From time to time, however, he lends his respected voice to serious national discourse that have political implications and effects.  
I do not know if he knows George Weah, but I believe he too must have been pleasantly amazed at how the young man rode on the back of the power of sport to become his country's President.  
Professor Wole Soyinka, a global literary giant and ambassador, will, of course, one day soon return to his home located in the woods in Kemta, Abeokuta, in Ogun State. So, that's where he will finally put up his feet in retirement, and start to enjoy and celebrate the rewards of his immense contributions to the global pool of knowledge. 
So, kindly read this to the end to understand why the connection between the great man, politics, sports and Ogun State, and why I believe he still has one last performance to put together before his retirement.  
As he settles down in Ogun State, I can imagine that one of the several things that will cross his mind will be the place of his own State in the world today.  
Would he think that as a people, we (I am from the State too) have done well? Would he think that the Yoruba have presented the best versions of what they are capable of achieving to the world? What would he be thinking about the future of Ogun State, the Yoruba, Nigeria and indeed, the Black race, in that order?  
Former great African leaders, mostly at Independence around the 1960s, all had a grand vision beyond their immediate individual countries, of the African continent and the Black race, and how the future of independent African countries would depend on how Africa performed politically on behalf of the entire Black race.  
Kwame Nkrumah of Ghana and, much later,  Nelson Mandela of South Africa, both specially espoused that Africa's future was hinged to the future of Nigeria, the most populous and the wealthiest Black community in the world in terms of human capacity development, education, mineral resources and a deep and rich historical past and a culture of intrinsic values embedded in the DNA of the people!  
So, Professor Wole Soyinka is of that genre. His worldview is beyond the narrow confines of his village or town, or even country, but extends to the global frontiers of knowledge and development for the Black race and Africans.  
This love 'letter' is for him to take a moment to read my humble thoughts.  
First, a generalisation.  
In governance, we cannot have proper development without the appropriate policies to drive it.  
There cannot, also, be appropriate policies without the politics to drive them.  
So, development and politics go together hand in hand! 
It is a damning realisation that puts those of us in sports firmly on a collision or a collaborative course with politics. For too long we did not get involved in politics and our world suffered with all the power it has to impact society and effect positive development and genuine change.  
No matter our (in sport) dream for Nigeria – how we can use sport to drive national development, national re-orientation of Nigerians, youth engagement and empowerment, job creation opportunities, rapid and massive national infrastructural development, wellbeing and health of the citizenry, business, education, the economy, welfare of the people, leadership, nationalism and patriotism, culture, ethics, peace, friendships, healthy competitiveness, the winning attitudes, and so on and so forth – sport will remain a dormant and wasting force without the instrument of politics to drive it.  
This was what George Opong Weah saw before he decided to wager his fame, his achievements in sports, his integrity as a social worker in his country, his vision of a great Liberia, against the usual entrenched political credentials of wealth, who-you-know, political godfathers, manipulation of results, buying of votes, power sharing, and empty promises to challenge for political power and the highest political office in his country.  
It was an audacious challenge that has opened a new vista in a continent littered with the failures of political leaders with only a handful of exceptions in recent times in Rwanda, Kenya and Ghana!  Without political power and political will, George Weah's dream of a better Liberia, a country liberated from poverty, hunger, disease, illiteracy, jobless youths, mental slavery, corruption, poor infrastructure, and dependence on foreign aid, will remain a mirage.   He had to use the power of sport to gain access to the political arena, and somehow to snatch the essential political power that can effect the change he envisioned for his country.  
It was an incredible achievement that must have opened a few eyes in the world of politics. 
When you combine the vision of a person grounded in the sports philosophy (or the arts) with the opportunities that exist in the global sports industry, and drive both with the passion, energy, discipline, dedication, focus, determination, fighting spirit, patriotism, nationalism, and never-say-die attitude common in sport, you will be unleashing a new and potent force that can overturn the old order of things and create a new world. It will obliterate all the differences and obstacles trumpeted and used by today's politicians to isolate the greater number of people who do not participate in the political games using shortsighted divide-and-rule tactics. These are the games that produce leaders that determine their eventual fate who squander the opportunities and resources of the State in mundane and petty things that never alter the fortune of the majority of the citizenry.  
In sports, success is achieved through self-belief, perseverance, endless training with failed attempts, hard work, a clear and simple vision, a little bit of luck and no consideration for a person's social status, creed, religion, tribe or clan.  
Sportspersons (and artists) are a special breed driven by the will-to-win, the fighting spirit to conquer adversity, the determination to win, the competitive edge needed to take on some of life's most intractable problems and to enjoy the ride of the adventure, win or lose!    
George Opong Weah has opened that new channel as well as a new chapter capable of effecting a fundamental paradigm shift in politics, particularly in Africa.  
Now, my dear Professor, having explained the power and potentials of sports in politics, I want to remind you that sport is but a small part of a much bigger entertainment industry that includes the arts, film, music, leisure, hospitality, culture, tourism, drama, dance and theatre.  
This industry is, without question today, the largest in the world contributing immeasurably to the global economy, and it is still growing.  
This sector of humanity is incidentally the forte of the Black person on earth. It provides the Black person the greatest, fastest and easiest opportunities to make a unique impact in the world. If he deploys it well, it could be an effective tool in the struggle for true emancipation from mental and physical slavery, from racial discrimination, from enslavement to poverty, abuse, hunger, segregation, and inferiority complex.  
This is the Black person's greatest weapon to fight back and to create a new world where he will be respected, rewarded and regarded as equal to any other person on earth, be they White, or Brown, or any other colour.  
This battle has started subtly. The weapons for this fight of civilisations are right in front of us, and available in abundance. 
Designed by higher forces beyond our comprehension, Ogun State, is properly located at the epicentre of this civilization. Properly channeled and driven by available new technology the State, today, presents the perfect environment to launch out and start the evolution of a new Nigeria, of a country that will become the platform upon which the entire Africa and the Black race will stand and develop into a formidable global technological, economic and cultural force that will make the 'fight' for true global equality, economic emancipation and the emergence of a new generation of Africans that will not suffer inequality, racial abuse, or discrimination  as result of tribe, or colour, or race in the world.  
Whilst driving this grander and bigger vision and mission, Ogun State will in the process join the club of the greatest and most advanced communities on planet earth.  
So, we must escalate even our domestic conversations to that level now.  We must think beyond mundane issues and cheap political issues that have dominated discussions on several social media platforms and blurted the grander thoughts of a people that are ordinarily sophisticated, enlightened, cultured and thinking, with a rich cultural history comparable to any other in the history of the world! 
Ogun State. This is the State whose story is told effectively in the lives of its great sons and daughters. I list a humble few only to buttress my point.  
Funmilayo Ransome Kuti, Professor Adeoye Lambo, Chief Obafemi Awolowo, Chief Simeon Adebo, Justice Adetokunboh Ademola, Professor Beko Ransom Kuti, Chief Odutola, Chief Ernest Shonekan, Chief Olusegun Obasanjo, Chief Moshood Abiola, Professor Wole Soyinka, Peter Badejo, Jimi Solanke, Tunde Kelani, Kunle Afolayan, Jimmy Jatt, Olamide, Teju Kareem, Kuforiji-Olubi, Falilat Ogunkoya, Kunle Awesu, Mudashiru Lawal, Benedict Majekodunmi, Fela Anikulapo-Kuti, Ebenezer Obey Fabiyi, Haruna Ishola, Hubert Ogunde, and so on and so forth, across the entire spectrum of academics, science, medicine, law, business, the media, arts, music, film, and even sports.  
The Nigerian, starting with the Yoruba, represents the best and most prepared member of the black race to champion this global fight and cause.  
He has everything in place to take on this responsibility and burden.  
In Ogun State, reside the most needed resources – the people enriched with their human capacity, their history, their culture, their values, their industry, their intellectual capacity, their youth population, their energy, their can-do spirit and their expressive celebrations.  
Starting in  Ogun State, we must establish a new global order and civilization of the Black race by building a new environment that will provide the simple and basic needs of the citizens;  that will take care of their wellbeing and health especially the poor, the weak and the vulnerable in society; that will promote quality and industry-driven education for all;  that will make superstars of professionals particularly teachers and ordinary folk doing exceptional things; that will reinforce institutions with modern technology and methodology; that will take maximum care of retired workers and civil servants, the elderly and physically disadvantaged and engage their experiences and knowledge to steer the ship of the State away from known rapids; that will turn the entire State into a massive construction site engaging the entire population of the jobless youths by filling the huge void of middle level manpower workers that drive the economies of every nation; that will protect petty traders, artisans and grassroots workers; that will attract foreign Black investors (sons and daughters of our forefathers forcefully taken away into slavery and left stranded and homeless for over 400 years – a huge population in the Diaspora) to get involved in building this  new 'homeland' in Africa; that will build a new paradise for every Black person in Ogun State.  
We can do all these things. Yes, we can.  
That's why an artistic creative mind like that of Professor Wole Soyinka is needed to evaluate the vision.  
We don't need to reinvent the wheel to achieve these. They are within our grasp. It will only take a humble and thinking heart to see what I see.  
I am humbly asking Professor Wole Soyinka to examine my little proposal and add a voice in support, or in rejection.  
From May 2019, Project Ogun State will start. 
In the first two years, the State will prepare itself to host the largest congregation of Black people from around the world since FESTAC '77 across the entire State in a series of designed events to launch Ogun State into the epicentre of a new Black consciousness and Civilisation on earth.  
With a mind fertilised by art in its grandest forms, Professor Soyinka, will convert the whole of Ogun State (Yewa, Remo, Ijebu  and Egba) into the largest cultural theatre in human history, built with available resources from all over the world,  to welcome, accommodate cultural representatives of all Black communities around the world for a period in a season that will become bi-annual, in a feast of entertainment and celebration of Black arts and Culture never seen before in the world.  
 If I were to have political power today, that will be my manifesto! 
It will be an opportunity for the world to watch the final dance steps of one of the great Black persons to come out of a State brimming with more of his kind.  
In preparing for this 'dance' Ogun State will transform in 4 years into the most sophisticated, the most advanced, the most friendly and the safest place to live and to work in Nigeria. It will become one of the fastest developing environments in the world!